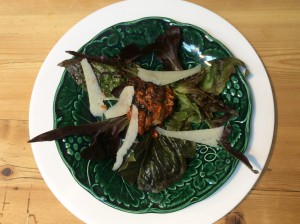 Not a fan of adapting recipes, when a new cookbook has yet another version of bread and butter pudding I despair. Aren't there any new recipes being invented? But now I have found myself going down the same culinary route. When I go back to tried and true recipes I think oh, does this cake really have to have so much sugar. And then I think about how I can modify it to my changing tastes. So I am guilty of adapting too.
In my part of London I occasionally find mini round aubergines and an Indian recipes has had me stuffing them with desiccated coconut  and cooking them in a spicy sauce. I've done it quite a few times now as it is so delicious, but on my last purchase of these purple globes I thought I could adapt the ideas I had learned and turn it in to something Italian.
I've been influenced too by all the chit chat about Nordic restaurants and their chefs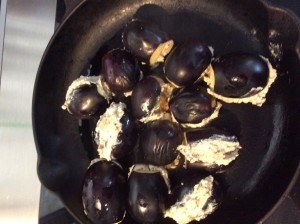 and their love of fermented staples. It's not surprising that they traditionally have fermented ingredients to have in the store cupboard, useful summer memories in the cold dark months ahead. Suddenly this jogged my mind that I had a hoard of fermented onion ( Greek I might add). These are a very useful to have on hand, so they went into the mix with the ricotta and fresh herbs and a little egg to bind. To make it more Italian these fat little bundles are baked in a shop bought tomato sauce. Oops, it is Bulgarian. I think I will have to rename this one. It's becoming less Italian.
Take: 12 spherical baby aub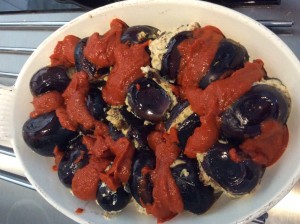 ergine, 200g ricotta, 1 tablespoon of chopped fresh herbs, 1 tablespoon fermented onions, 1 egg yolk ,2 tablespoons of dried breadcrumbs and 400ml thick tomato sauce.
Slice through the middle of the aubergines, leaving them attached on one side. Mix everything ( except the sauce) together and then spoon into the gaps of the aubergines. Heat a frying pan with a little oil and carefully fry the aubergines on both sides to start the cooking process. When starting to soften pour around the tomato sauce and continue to cook, either covered on the stove top or in a hot oven, for about 30 minutes. Serve as a hot supper dish or at room temperature with salad.