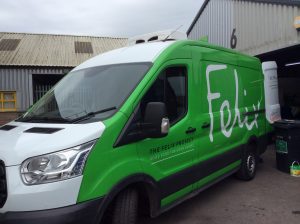 Baby artichokes are in the shops, one of the reasons that I know this is they are coming into the wharehouse at The Felix Project where I volunteer. Here unsold ingredients , donated by supermarkets and other food wholesalers are redistributed to charities who cook for those in need in our city. If you don't know how to prepare and cook artichokes you are or not alone. But with the recipe below I hope you will be tempted to give them a go.
Artichokes have a slightly bitter and earthy taste but are none the less delicious. So you either love them or loath them. I am in the former catergory and hope I can convince you to prepare them yourself. Sadly when you see them in shops they are often looking tired and old, perhaps because not enough people know what to do with them and they have been on the shelf too long. But if they are looking fresh buy them and give them a go. I will admit they take a bit of time to prepare, but once done they can be st
ored in the fridge for days. Bring them out to add to salad, a pizza or just eat with good Italian bread such as ciabatta, so you can mop up all the juices. Home prepared ones taste infinitely better than shop bought bottled ones, needless to say.
Baby artichokes with herbs and cherry tomatoes. This recipe works for any amount of artichokes, large or small
To prepare the artichokes, slice off most of the stalk and the top third of the achrtichoke. Slice away the coarse outsides of the remaining stalk. Pull off three to four layers of the coarse outside leaves. Cut the artichokes in half from top to bottom, or in quarters if larger. Drop into a bowl of cold water with salt added to prevent the artichokes from discolouring. When all the artichokes are prepared, drain them and place in a large broad pan with a good drizzle of oil. Pour over a little water, enough to cover the base by 1cm. Season well with salt and pepper. Add some chopped herbs, stir well and cover with a lid.
Cook over a medium high heat until tender, piercing them with the point of a small knife to check. You are effectively steaming the artichokes. Check the pan occassionally to make sure the liquid hasn't completely evaporated as you are cooking them. When the artichokes are tender remove the lid and evaporate the remaining liquid in the pan.
To finish season well with salt and pepper, some olive oil and lemon or lime juice to taste. Stir in a good handful of chopped parsely. If you have some cherry tomatoes pan fry them, just until they blister, in a little olive oil with a small amount of garlic. Stir into the artichokes so they just start to break up. They will add a refreshing sweet note to the artichokes. For a further taste of the Mediterranean lightly fry some slices of halloumi cheese and serve on
top of the artichokes.
.A note on Globe Artichokes. These are the larger, fist sized ones. Prepare them in the same way without halving them. Open up the centres with your fingers and pull off the little spiky cap in the centre. With a teaspoon scoop out the choke, the hairy centre. These large artichokes are best boiled and served  with a dressing or melted butter and eaten by pulling off the leaves anddipping their bases into a sauce. The base of the globe artichoke is like a 1 cm thick saucer, the nicest part of the vegetable, savoured last.