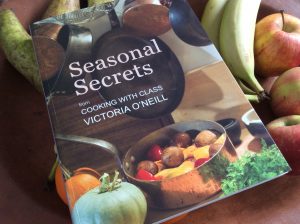 I can't believe I have gone from one religious festival to the next without a post but  now that the gloom of winter is finally receeding my thoughts are more upbeat in the kitchen, especially as Easter Bunny has filled up on chocolates at Ottolenghi's . My thoughts are now turning to baking some delicious chocolate recipes. My cookbook has a fair few chocolate recipes , one family favourite is the cake made with all three chocolates,  another a chocolate loaf of bread or two, one with the addition of extra chocolate chips another with chilli and lime added. Delicious served warm slathered with butter.  I will definitely be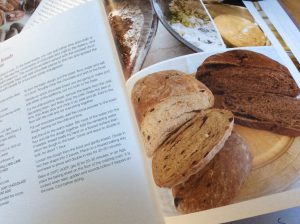 making that one again this Easter.
The quantity of chocolate baking recipes is truly surpassed though in Belinda Jeffery's fabulous book Mix and Bake. Belinda is a highly respected cookery writer and teacher in Australia and I was facinated by her eggless cakes as I know a little lad who is allergic to egg so I was intrigued to try them.  If you are thinking of a chocolate indulgence or a need a gift to give this Easter here is my adaption of one of her lovely recipes. One of the joys of cupcakes is that they are quick to mix, basically one bowl of wet ingredients mixed with one bowl of dry ones. They cook quickly too, so they are excellent for a spontaneous foray in the kitchen.
Eggless Chocolate and Raisin Cupcakes               makes 10

Mix in a medium sized saucepan, 200ml water, 75g raisins, 125g butter, 100g caster sugar, 1 tsp cinnamon, 4 tsp cocoa, and a pinch of salt. Bring to a boil, stirring, then simmer for 5 minutes before leaving it to cool. Dissolve  1/2 tsp bi-carbonate of soda in 2 tbs boiling water  then pour into the chocolate.  Measure out in a separate bowl 150g plain flour and 70g choc chips. N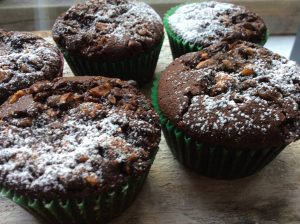 ow stir the two parts together and spoon into cup cake papers in a muffin tin.
Make a crumble by mixing together 2tbs brown sugar, 2tbs chopped hazelnuts, 1 tsp cocoa, 1/2 tsp cinnamon and 1tbs melted butter. Sprinkle on top of cupcakes and bake at 180C for 30 minutes. Try to let them cool before eating!