Turnip tops are something Italians cook with. We hardly ever see them  in the shops but if  you grow turnips yourself  you could try the recipe below. They don't look particularly appetising, with their dull green , rather rough leaves but they are good to eat. Why throw them in the compost!  As I was boiling them to make the sauce for this well known pasta dish I was struck by the fact these green leaves as they cooked smelt just like turnips. Perhaps I shouldn't be surprised but it got me to thinking about all the bits/parts of ingredients we discard thinking they aren't worth cooking.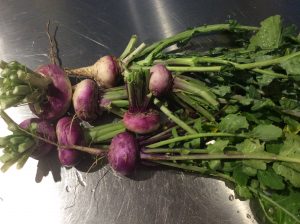 The French have a wonderfully sounding word for waste. It's  gaspillage. The anti- gaspi restaurant in Paris where my daughter volunteered produced everything from donated market produce. You don't have to understand French to  see how to make a tartlet with banana skins in the dough and kiwi peel in the custard,  cooked in a recycled anchovy tin , la tarte anti gaspi. 
I'm sure you know the frighteningly large statistics relating to food waste in the 21st century. Thankfully there are charities supplying those in need with food that might otherwise have gone in the bin, often just supermarket surplus. One local to me is the  Felix Project in west  London and this month they, with volunteer chefs have set up a restaurant for London's Food Month.
We have lost the economy of cooking everything we have on hand. Our great grandmothers knew how to do it. It's time we all looked a little closer at how to make the most of every ingredient.
The aroma of cime di rapa as it cooks may be of turnips but it just tastes like cooked spinach, a very acceptable flavour. Traditionally the pasta used is orecchiette, small ear shapes that catch the sauce. I've used linguine mixed with grated pecorino cheese, a little crushed garlic and sauteed  baby tomatoes. Hey presto it is as all Italian dishes should be, absolutely delicious and  reminiscent of the colours of the Italian flag. Patriotism at the table.
Of course there are carrot tops to try next stalks, even garlic stalks. I wonder if the Italians have a recipe for them as well ?
Linguine con le cime di rapa. Wash 500g turnip tops discarding the hard stalks. Put 200g linguine into a pot of boiling salted water, and add the turnip tops after 3 minutes. Cook until the pasta is al dente, about 8 minutes. At the same time heat a saute pan with a little olive oil and add 1 crushed garlic clove and a good handful of cherry tomatoes. Saute, shaking the pan occassionally until the tomatoes start to wilt. Drain the pasta and add to the saute pan. Shake everything together and correct the seasoning. Sprinkle over some grated pecorino and serve 2 hungry people.