I always feel that figs from our trees are enjoyed with a tinge of sadness. You wait for months for them t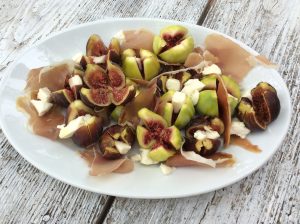 o ripen, revel in their sweetness and warmth when the time comes but always in the backround is the fear that summer is almost over. Figs in season are the only ones worth eating, and as they are so fragile, shop bought ones are often sold less ripe than is optimal so the intense flavours and enjoyment are most likely missing. On the tree the leaves are beginning to turn yellow, maybe already falling off due to the intense heat and dryness. Yes Autumn is around the corner.
So rather than getting depressed about it here are some recipes to make and prolong those last of the summer memories. Fig cake adapted from Joy the Baker and fig chutney adapted from a Nigella recipe.
Easy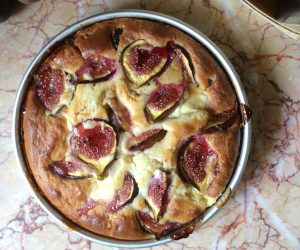 Fig Cake                   Butter an 18cm cake tin. Melt 2 tablespoons (Tbs) of butter  then  stir in 75 ml of milk and the same amount of plain yoghurt. Finally whisk in 1 egg and 1/2  teaspoon (tsp) of vanilla extract. Into a bowl measure 200g plain flour, 50g caster sugar, 1 tsp baking powder and 1/4 tsp bi-carbonate of soda. Stir the wet ingredients into the dry ones. Pour the mixture into the prepared cake tin. Quarter some figs, 4-6,  and scatter over the cake. Mix 100ml creme fraiche with 1 and 1/2 Tbs honey and dollop over the cake along with 2-3 Tbs fig jam. Bake for 40 minutes. Lovely served warm with ceam or ice-cream.
Fig chutney with olives                Simmer 1kg fresh figs with 1/2 cup water  until soft with 1 tsp each of ground fennel seeds and cinnamon . I do this in the pressure cooker and it doesn't take long. Snip the soft figs into pieces using some scissors. Mix in 200g brown sugar and 200ml vinegar. Also add 150g chopped black olives. Boil the mixture down to a thick chutney like mixture, stirring the pan with a flat spatula. When you see a track through the chutney on the bottom of the pot , the mixture is ready for bottling. Chutney always tastes best after a couple of months maturing. No wonder it makes a good Xmas gift.
With thanks to my researcher and test cook, Frances Leech.