Why are the Japanese such perfectionists when it comes to making Fr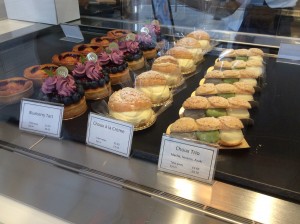 ench pastries ? Both my children learned Japanese at school  and one went on to SOAS to do his degree in the language. The other by chance, or not, (one wonders about coincidences ) ended up as an apprentice in a Japanese run Parisian pastry shop. So it's not surprising that as a family we are predisposed to Japanese culture, which naturally includes food.  Japanese pastry chef's renditions of French pastries are like jewels to look at and to eat they are truly ethereal. Sometimes they are straight copies of the French, not deviating at all from the original recipes but at other times they use Japanese flavours, such as sesame seed, matcha and yuzu in the French classics.
Just lately I have discove
red a local Japanese coffee shop and bakery and I can't keep away. They offer everything that I once went to Paris for. Of course they serve the perfect cup of coffee, why wouldn't they; they are perfectionists. But they also serve lovely Matcha lattes. But the pastries are what I really go there for. WA in Ealing serve a trio of choux buns filled with the lightest pastry cream, each flavoured differently, one vanilla, one green tea and one black sesame seed. And then there is  their cheese cake with a crust of black sesame seeds and the filling with the accent on white sesame seeds. You have to try it to understand how light a cheesecake can be. I could go on , but I think you have to go there and sit in the stylish cafe and indulge your sweet tooth. Get on the central line and alight at Ealing Broadway. WA is just a few shops to the right facing Haven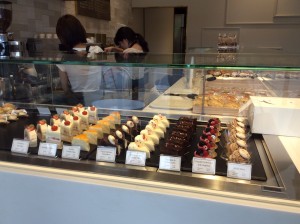 Green. Enjoy.