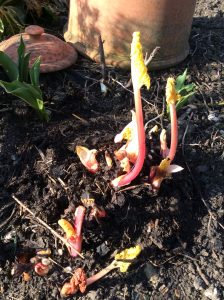 It has been a long and cold winter and I think most of us are fed up and wanting Spring to hurry along and cheer us up.  I've been waiting for six months to try a new recipe and at last with the appearance of the first forced rhubarb I am going to make an upsidedown rhubarb cake and serve it with custard. The rhubarb/custard combination is very popular in the UK, but personally I hate custard, with the exception of creme anglaise, which is what I will make. This is thinner and lighter than thick gloopy custard and more delicately flavoured with vanilla and a litttle cream, far more inviting and delicious.
Forced rhubarb is now in the shops, even imports from Holland. Although here we think of it all comes from the Rhubarb Triangle in the north of England. So much is forced rhubarb
loved here that most Brits turn their noses up at rhubarb as it darkens and coarsens through the growing season into summer. Not so in the USA or Australia. We are willing to cook and eat it all summer long, even as it looses it's soft pink colour. The possibilities are endless. A summer favourite is a pairing of  rhubarb puree filling a pastry shell with fresh strawberries on top.
If you have a surfit of rhubarb you can make a cordial or syrup to keep and then make some stunning cocktails or mocktails. The syrup also can be adapted to make a jelly which is a refreshing end to a meal. I make a rhubarb crumble cake which is a popular and lovely served as a warm dessert. Always a fan of rhubarb I am eager to try another  dessert recipe. The season also coincides with the apperance of blood oranges so they will be going into the cake too. Best served warm, it is rich and buttery and bursting with  fruitiness, if one can say that.
Rhubarb and orange cake
Cover the base  a 500g loaf tin with baking paper. Pour over 2 tablespoons of melted butter and brush th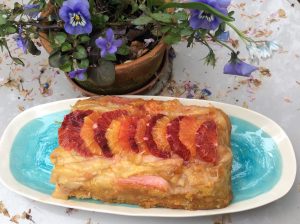 e sides with a little butter. Mix 250g washed and chopped rhubarb with 50g of caster sugar and the zest of a bloood orange. Spread this on the base of the tin.
Make the cake by creaming together 75g butter, 75g caster sugar and the zest of 1 orange, until light. Beat in 2 eggs. Sift together 1/4 teaspoon bi-carb into 100g self raising flour. Beat into the flour with 50g natural yoghurt. Pour into the cake pan.
Make a topping by mixing together with a fork  40g flour, 20g sugar and 2 tablespoons of melted butter. Sprinkle over the cake and bake at 180C for an hour. To serve turn the cake out after it has rested for 5 minutes. The crunchy top now becomes the base and the rhubarb will be upppermost. Decorate with blood orange slices.