A lot of of us are eschewing daily meals that revolve around meat and where once vegetables played a minor role. I could never be a complete vegetarian but at least half my weekly meals don't contain meat these days, mostly because there are so many good vegetable dishes that I love to eat. With a glut of courgettes (zucchinis where I come from),  lately the meals have been green ones. I've enjoyed making courgette pickles with a friend and serving courgette soda bread, all thanks to the BBC Good Food website. How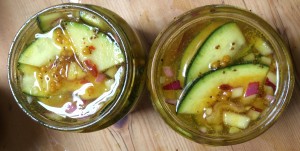 easy is it these days, just to look up a recipe ! The pickles are delicious and the soda bread stays very moist for quite a few days. Not the usual characteristic for a soda bread that was traditionally made each day in Irish farmhouses with the souring milk left beside the Aga overnight. And did I mention the bread looks so appetizing too with its gentle flecks of green.
But by request I have made some old favourites again . Courgettes Bruschetta and Courgette Crepe Stack.  Bruschetta is easy especially if you have some sliced sourdough in the freezer, which when toasted lightly is then rubbed with a cut garlic clove and drizzled with a little olive oil make the perfect base. Grill diagonal thin slices of the vegetable on a griddle pan for an attractive stripey look and an al dente texture. I spread the toast with a little ricotta, sprinkled over a hint of chilli flakes and then top with the courgette, some chopped marjoram and fresh chives. Season with freshly milled pepper and a touch more olive oil and enjoy.
A Crepe Stacks is a great way to serve crepes and so easy to serve, as it is cut like a cake. The possibilities for fillings are endless, they can even be a dessert and made in advance, always a plus point for me. Try the Courgette Stack on someone that thinks they don't like courgettes. They may well change their minds.
Alternate about 8 crepes with a layer of coarsely grated courgette that you have sauteed in a little butter and a spoonful of oil. Make sure that you stir it well as it cooks and that you drive off all the excess moisture. So, like the Italian flag the next layer between a crepe is red, a layer of ripe red tomatoes,thinly sliced. Add another crepe and then grated cheddar cheese. Pile up the layers like this finishing with cheese on top. Bake briefly in a hot oven. It just needs heating through at 200C, for 15 minutes. You don't want the tomatoes to cook as you are looking for a fresh, not stewed flavour.
The Italians have always put vegetables in pride of place in a meal and making gnocchi reminded me of why I love Italian cuisine so much. I've been daring, this time adding kale to my spinach gnocchi and they proved a delicious duo, a hint of cabbage deepening the subtle flavour of spinach.  Curly kale is an old fashioned vegetable that has reached stratospheric heights in popularity in the last few years. It is a lovely plant to look at in the garden and is a winter survivor. That was it's popularity in the past. Now it is fashionable for its so called healthy properties but it is only, in my opinion worth eating if it is cut up finely and added it other things. And I don't mean a kale smoothy, which you wouldn't find me drinking !
Spinach and kale gnocchi          serves 4
1 finely chopped small onion, 1 tsp butter, 300g washed fresh spinach, 150g kale, 90g flour, 2 egg yolks, 150g ricotta cheese, 50g grated Parmesan,( plus extra for serving). Salt, pepper and nutmeg.
Saute the onion in butter and a few spoonfuls of water. Cook the spinach in its own moisture and boil the kale until tender, having first removed it's thick stems. Drain the vegetables of any moisture and then blend with the onion in a food processor. Stir in the yolks, flour
and cheeses.
Boil a large shallow pan of water and then shape the gnocchi using 2 spoons to form quenelle shapes. Drop each one as they are made into gently simmering water. You can fill up the surface of the pan, so long as the water keeps simmering. You may have to make 2 batches. Keep the first batch in a warm oven in an oven to tableware dish with a little melted butter on the base. When they are all cooked, serve immediately with a bowl of grated Parmesan as an accompaniment.
If you would like more vegetable inspiration why not enroll in a class this Autumn